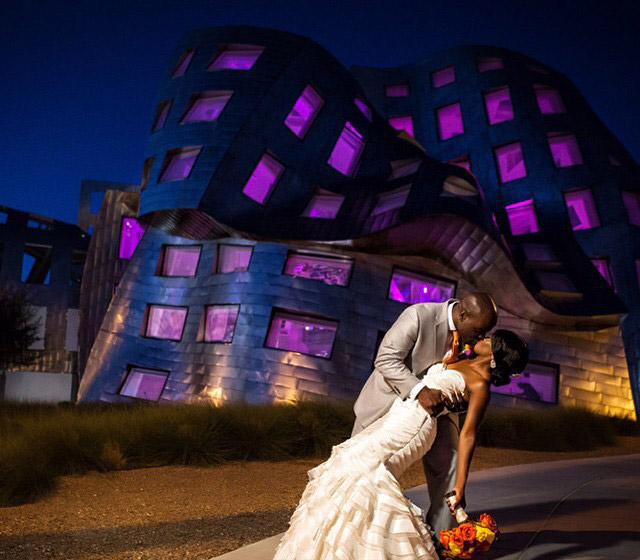 You're getting married in Las Vegas? Whether you're a Las Vegas local or coming into town to celebrate your big day, there's so much planning and preparation involved on your wedding, that you have to rely on professionals for their expertise. From your Las Vegas wedding event venue, cake, flowers or photos, you need the recommendation of an wedding expert to guide you in the right direction. Before or after your wedding at the Keep Memory Alive Event Center, we checked with local photographers to see where the best locations are to have some great photos taken around town to capture your special day for a lifetime.
Your Wedding Venue – This isn't a surprise that it's the first pick – when you're choosing your venue, every bride is checking out different areas for photo opps and rightfully so! The Keep Memory Alive Event Center offers creative and beautiful photo opportunities, from the stunning Frank Gehry – designed stainless steel building lit up in your wedding color, to the Reflection Garden and breezeway. Be sure to ask the venue for location ideas to shoot at, as there might be some areas you aren't aware of or you are not able to see, that would make for a cool photo location!
Golf Course – Golf courses are the perfect backdrop for any bride and groom. You just can't go wrong with the green.
Red Rock Canyon – As Nevada's first National Conservation Area, Red Rock Canyon makes for amazing photographs. Being outdoors in nature is always a safe bet when it comes to photographs, especially at sunset. Located only 17 miles from the Las Vegas Strip, if you have time to include photos here, don't miss out!
The Neon Museum – This inspiring location makes for artistic and legendary photos. Spanning two-acres, this museum houses more than 150 historic hotel and casino signs from Las Vegas. Capturing photos at this historical museum is one memory definitely worth having.
The Las Vegas Strip – We had to include all the glitter and lights of the Las Vegas Strip! Even if you're a local, taking photographs along the Strip, specifically in front of the Bellagio Fountains, "Welcome to Fabulous Las Vegas" sign, The Venetian, Caesars Palace and Fremont Street, is a fun and cool way to remember your wedding day.
Which location would you choose?