1. Legendary architect Frank Gehry designed the amazing building. He's also designed the Guggenheim Museum, Walt Disney Concert Hall and Louis Vuitton Foundation in Paris, leading "Vanity Fair" to name him the "most important architect of our age." You'll get that "wow" factor before even stepping into the ceremony.
2. When you host your unforgettable Las Vegas wedding at the Keep Memory Alive Event Center, you are actually helping others remember. Special event proceeds support the Cleveland Clinic Lou Ruvo Center and go towards enhanced treatment, research and prevention of brain disorders.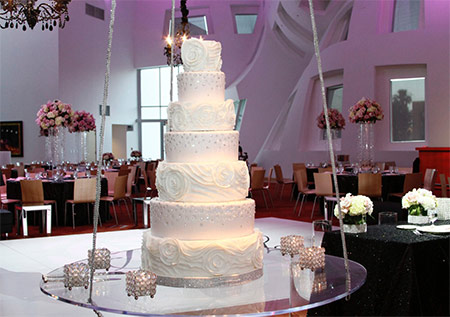 3. We customize every wedding by crafting the ultimate best with focus on details and individualized attention which results in an unrivaled guest experience – we've hung a seven-tier wedding cake from the ceiling and brought in a monogrammed dance floor for guests to get their boogie on.
4. We know the to-do lists are endless for wedding planning, but one thing you can cross off your list with us – facility fees. Lounge furniture, portable bars, Narumi china, Riedel glassware as well as flatware and linens designed by Frank Gehry are all included.
5. Go green! We have energy-efficient windows, climate control on the lower 15 feet of the event center and special window coverings that track the sun throughout the day in order to conserve heat and air conditioning so our windows open and close as the sun moves.
6. Wolfgang Puck has been cooking for the Oscars party for 20 years and personally designed our kitchen to the exact specifications of his dream kitchen. We offer world-class dining options or bring in your own chef to create the perfect wedding menu.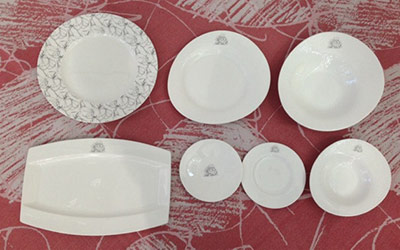 7. We know it's oftentimes hard for kosher clients to find kosher facilities so we are proud to offer kosher capabilities and will work directly with the rabbi for proper preparation.
8. The event center has 199 windows, no two the same shape or size – similar to snowflakes!
9. Located only minutes from the Las Vegas Strip so you can party the night away but spare your guests the trek through a smoke-filled casino.
10. Are your wedding colors pink and purple? Blue and green? Whatever they are, we have a customized LED lighting system to set the inside and outside ablaze in color for a truly magnificent photo.
Tell us your thoughts about our center, leave your comments below!